With high-value and sensitive pharmaceutical products, transporting goods safely – with no risk of damage or tarnishing – can be a real challenge. Products that arrive in less than perfect condition can pose a danger to safety while also potentially harming the reputation of the manufacturer. In a highly competitive sector, it is important to operate to the highest of standards. Fortunately, when it comes to packaging, polystyrene is the solution that ticks all the boxes and ensures your product arrives safely, every time.
Polystyrene is cost-effective (but that's not the only benefit)
Polystyrene packaging is durable but lightweight, which means that it won't add to overheads in the way that bulky and weighty alternatives might do.
However, saving money isn't the only reason why pharmaceutical companies choose polystyrene packaging.
Because it's an effective insulator, it keeps temperatures inside a box stable. When moving medicine, this can be a critical factor and it is often of vital importance that the contents of a delivery are not exposed to extremes of heat or cold. For this reason, polystyrene is favoured by pharmaceutical firms for its all-year-round capabilities.
It's obvious why it's also used to transport food products too. Where perishable goods may quickly spoil due to heat, a container which utilises polystyrene to insulate is the ideal choice.
Making sure pharmaceutical products arrive in a good condition with the end user is one way to promote trust and an ongoing positive relationship.
Polystyrene does not absorb moisture
Unlike other packing materials, polystyrene does not take on water. For the pharmaceutical sector, ensuring medicines are not compromised or contaminated in any way is of great concern, and that's where polystyrene offers real peace-of-mind.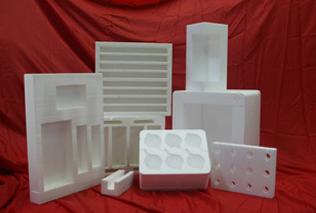 Then there's the fact that it effectively absorbs the shocks and knocks that are an inevitable fact of transporting goods. When medicines are shipped in glass bottles or jars, there is the potential for damage and breakage. Here, polystyrene packaging can be used as a cushion or even used to 'suspend' products inside a larger container.
It's a flexible material that can be shaped and customised to meet precise needs. Ask us about our consultancy service, where we can design the right product to match your exact specifications.
If you would like to talk to us about bespoke polystyrene packaging solutions for the pharmaceutical sector, contact the Vertapak team on 01384 457730 for an informal chat.